News about our Uniontown, PA Machine & Fabrication Shop
New HAAS CNC
ZRM Enterprises' new HAAS CNC EC1600TZ has arrived. The HAAS EC1600TZ is a 4-axis cnc horizontal milling machine. With this new Haas machine, ZRM Enterprises has yet again extended their capabilities. This is the first cnc horizontal mill ZRM has acquired, and we couldn't be more excited.
ZRM Enterprises' HAAS CNC EC1600TZ features a 30+1 tool changer, a 64" x 36" T-slot Table with a 10,000 lb weight capacity, 360o travel, and 78" max part swing.
Evolving our Capabilities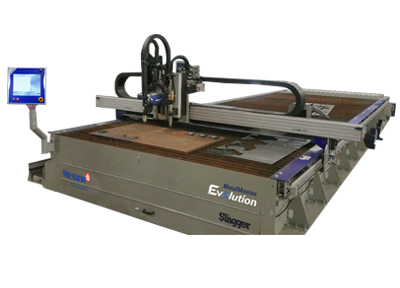 ZRM Enterprises LLC is evolving our capabilities with The Messer MetalMaster Evolution system. With a 10' x 35' cutting area, this new Messer plasma table just over doubles our current burning capabilities. The MetalMaster Evolution features the Messer Global Control which includes on-board material database allowing quick set up and high quality parts. ZRM Enterprises LLC also opted for the Automatic Nesting Package, OmniWin 2018 Professional software, and the digital video camera, all of which increase productivity and reduce scrap.
The Messer MetalMaster Evolution also features plasma equipment including: Hypotherm XPR300 X-Definition Plasma System, Hypotherm XPR300-OptiMix Gas Console, and CSL200 Plasma Torch Height Control. The Hypotherm XPR300 Plasma System has 300 amps and 63kW of output power delivering higher cut speeds; up to 15% higher cut speeds on thicker materials. Being equipped with the patented PowerPierce liquid cooled shield technology, using the argon-assist process allows production piercing of 1-3/4" to 2" mild steel and up to 1-1/2" stainless steel and aluminum.
The ALFA Oxyfuel cutting torch featured on the Messer MetalMaster Evolution has the capability to cut 6" mild steel.The ALFA cutting torch contains magnetic height sensing, internal ignition, and the ability to sense to the edge of the material.
The Messer MetalMaster Evolution is environmentally friendly. Being a dry, down draft table eliminates the need for water in the cutting processes. The table also includes a FARR Gold Series Dust Collector, which keeps all of the irritating dust and fumes from polluting the air.
For more information on our new capabilities or for a quote Contact Us!
Submerged-Arc Welding at ZRM Enterprises
ZRM Enterprises has a Lincoln Electric NA-5 submerged arc welding system. It's a fully automated way to perform circumferential and vertical/horizontal butt and fillet welds, without using a shield gas. Our main application is surface build-up, single-pass welding steel. Although we are capable of performing multi-pass butt and fillet welds, as well as, welding non-ferrous materials. Contact us for a quote today or for more information!
Always moving.
ZRM Enterprises LLC has recently expanded their facilities and capabilities, and in turn moved their office to the white building in the back of the compound. With more square footage than ever before, we were able to add three new machines to our equipment list. Increasing our turning and milling abilities enables ZRM to perform jobs of a bigger magnitude than they ever have, and was a much needed addition to our shop. It is a strong belief at ZRM that if you don't add to or change what you are doing, then you will stay stagnant and get left behind in this fast paced industry. We are always looking in the future and always moving forward.
You can find our equipment list here. If you would like any further information regarding our capabilities please contact us!
ZRM Enterprises Acquires D.L. Machine
On June 29, 2016, ZRM Enterprises LLC acquired the customers of the now closed D.L. Machine of Waynesburg, PA.
We look forward to providing the same great service to D.L. Machine's former customers as well as any new ones.
Feel free to contact us at 724-437-3116 or use our online Request a Quote form.
Custom Fabricated Hydraulic Claw
When we make something particularly interesting, we want to share it to showcase the nearly endless possibilities of our machine and fabrication shop.
This claw combines our expertise in machining and custom fabrication, as well as hydraulic manufacturing, to provide the exact solution our client needed.
If you need something like this (or something completely different) we would be happy to meet your needs.
Feel free to contact us at 724-437-3116 or use our Request a Quote form.
2014 SCORE Award Honorable Mention
Thanks to our faithful clients/customers/supporters, ZRM Enterprises, LLC has received a 2014 SCORE Award Honorable Mention. This year's 6th annual SCORE Awards will be held Aug. 14th in Washington, DC.
SCORE CEO Ken Yancey says, "The SCORE Awards celebrates and honors successful and innovative entrepreneurs who inspire us all and the small business advocates who support entrepreneurship in America."
Our Uniontown, PA machine and fabrication shop is now a member of FayPenn!
ZRM Enterprises is now a member of the FayPenn Economic Development Council! We're excited to be a member of their impressive organization, and to continue serving machining and fabrication customers in Uniontown, PA and throughout Fayette County, along with the rest of Pennsylvania, West Virginia, Maryland and Ohio.
ZRM Enterprises is open for business!
We're proud to announce that our doors are open! We look forward to growing as a machine and fabrication shop serving customers in the Uniontown, PA and Pittsburgh area. Whether you need basic or advanced machining, custom or emergency fabrication, or hydraulic cylinder repair or remanufacturing, we can provide the high quality work you need.